Contact Info
Kiwanis Foundation of Canada
P.O. Box 5034
Brantford, Ontario
N3T 6J7
T: 519.304.3038

Foundation at Work
The ELIMINATE Project
Kiwanis has partnered with UNICEF on a world wide service project to eliminate the horrifying and tragic disease --- Maternal and Neonatal Tetanus. Kiwanis has the fundraising skills, the commitment to making a difference in the world, as well as the passion and enthusiasm to eliminate MNT. UNICEF has the organizational skills required to carry out this huge, global, immunization program.
In Canada, all contributions toward the Eliminate Project flow through the Kiwanis Foundation of Canada. In this way, all individuals who contribute will receive a receipt for income tax purposes.
Government of Canada Donates $2.5 M to Kiwanis ELIMINATE Campaign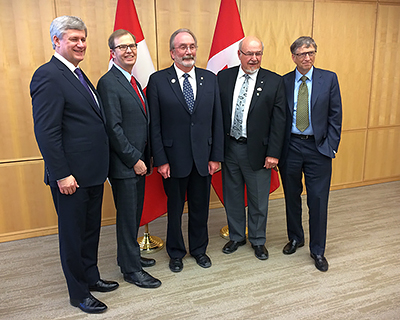 Kiwanis International ELIMINATE Regional Coordinator (Canada and the Caribbean), Chuck McIlravey, met with Kiwanis International President, Dr. John Button, UNICEF of Canada CEO, David Morley, Prime Minister Steven Harper and Bill Gates.
All Kiwanians are thrilled with our Government of Canada's decision to donate up to $2.5 Million in matching funds to our global service project: ELIMINATE.
Beginning February 25, 2015 (and continuing to December 31, 2016), all money raised for our ELIMINATE project, and sent to our Kiwanis Foundation of Canada, will be matched by the Government of Canada up to $2.5 Million!
This donation, from the Government of Canada, puts us closer to realizing our goal of eliminating maternal neonatal tetanus in the world. It helps save the lives of countless babies. It helps improve the world one child at a time.
Kiwanians, the world over, appreciate this donation and extend our heartfelt thanks to the Canadian Government for showing that they truly care.
Canadian ELIMINATE Regional Coordinator, PG Chuck McIlravey thanks Kiwanis members for their efforts in securing this donation. Click here to read PG Chuck's letter.
The Total $2.5 Million Dollar Fund has now been fully utilized.