Contact Info
Kiwanis Foundation of Canada
P.O. Box 5034
Brantford, Ontario
N3T 6J7
T: 519.304.3038

Tablet of Honour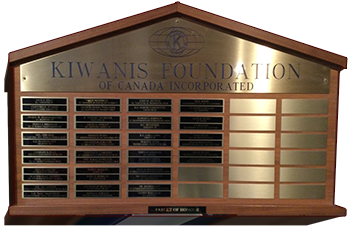 This distinguished recognition is provided for Kiwanis Clubs who wish to recognize a Kiwanis Member who has continued to volunteer and provide support to others in their Kiwanis Community, Kiwanis District or Kiwanis Internationally. A contribution by the Kiwanis Club on behalf of the recipient of $1,000.00 is required and their name will appear on the Kiwanis Foundation of Canada Wall of Honour. Formal recognition will be provided by the Foundation.

To Apply: Please forward your cheque payable to the Kiwanis Foundation of Canada and provide your:
District Name
Division Number
Club name and number
Members name and number
and their full address.
Please advise the Foundation where you would like the acknowledgement sent for presentation. (e.g., Club President / Secretary etc.)