Mel Osborne Fellowship
The Kiwanis Foundation of Canada has brought into existence an award which honours Kiwanians and others who have contributed to the growth and work of Kiwanis.
Community Leader Award
Clubs may apply for a Mel Osborne Fellowship, in a Shadowbox format, for presentation to any non Kiwanis member in their community.
Our ELIMINATE Project
Kiwanis has partnered with UNICEF on a world wide service project to eliminate the horrifying and tragic disease --- Maternal and Neonatal Tetanus.
Special Contest
FIRST PRIZE
The 2014 Kiwanis International Convention
For the Member & Guest
Includes 2 tickets, return airfare & transfers from the nearest Canadian Gateway Airport, Plus Convention Registration, five (5) nights' accommodation (1 Room each) at your International District Hotel in Tokyo/Chiba Japan and $1,500.00 cash for other expenses.
Committed to Extending A Helping Hand...
We are a a nonprofit charitable foundation endorsed and approved in 1971 by the 3 Kiwanis Districts of Kiwanis International
operating in Canada. It is a registered Charity and all donations are tax creditable in Canada.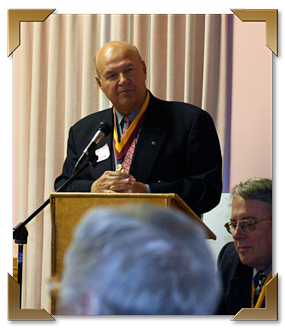 Kiwanis Foundation of Canada Past President, Former Governor Chuck McIlravey.
The Foundation is governed by a board of volunteer Kiwanians from the three Kiwanis
Districts of Canada.
The Purposes are:
To provide financial support in many different ways including:
Promoting and providing financial support for Service Leadership Programs in all three Districts of Kiwanis in Canada (Pacific Northwest, Western Canada and Eastern Canada and the Caribbean).
Promoting and encouraging the presentation of scholarships by Kiwanis Clubs through the Matching Scholarship Program.
Collecting funds and administering the National Disaster Relief Fund.
Supporting special Kiwanis causes.

Financing:
The Foundation's funds are received primarily from individual Kiwanis Members and their Clubs in our three Districts of Kiwanis in Canada. Gifts from corporations, other foundations, groups and individuals are also received. All donations shall be used to carry out the Foundation's stated purposes, unless specified as endowment funds.